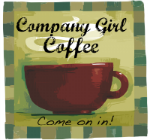 Let's share some Company Girl Coffee today!
Click the box to find new bloggy-friends.
A long time ago I wrote down all the tasks that I wanted to complete during a week's time. Then I divided the tasks out between the days and made a simple list to follow. Over the years, the Weekly Routine has morphed into whatever was needed at the time, some years full of outside committments, some years focused on homemaking. Here's what my list looks like right now:
How do you organize your weekly tasks?