I often yearn for more beauty in my life. The routine of daily chores can at times be depressing; the constant stacks of dirty dishes, dirty clothes, and papers needing attention seem to never end. Where's the beauty? On a positive day, I might recognize that we're eating well, that we have plenty to wear and that I have an active life that calls for my interaction through paperwork, but more often than not, I face those tasks with dread. I'm learning that if I add just a touch of beauty, it helps me work/cope with greater joy.
I choose toile file folders to use everyday, put decals on my washer and dryer (hubs thinks that's silly, but I enjoy them) and I light a candle next to the sink that never seems to stay empty for long. The smell of beauty in my kitchen keeps me coming back to work on those tasks that feed my family, but not my soul. As I write this post I can smell the lemon lavender candle and it calms me. I love scented candles!
A few of my favorite Yankee candle scents are Lemon Lavender, Autumn Wreath, and Sun and Sand. I've been known to use a Sun and Sand car freshener in the mini-van in the dead of winter. The slight aroma of suntan lotion during blizzard-like conditions makes me smile. I'm quirky that way. :)
Do you have any favorite scents?
How do you add beauty to your daily routines?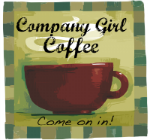 Company Girl Coffee is a linky party hosted each Friday to meet up with other women in blogworld. You share whatever you want on your own blog and then just link your post over at
Home Sanctuary.
I've made some new friends and have visited several interesting blogs. I love that Rachel hosts the linky on a Friday 'cause by then I would sure love just to sit and have a cup of coffee with a girlfriend. That's often not possible in real life, but virtually it's a lot of fun! Thanks, Rachel!