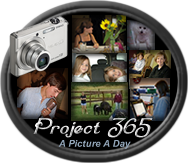 Join Sara and friends this week for Project 365.
Sunday
Snow play = hot chocolate = soaking stains out of clothes
Monday
More snow play at the sledding hill -
watch out winter olympics, we're getting ready!
Tuesday
a few fluffy inches of the white stuff
Thursday
major snowstorm coming - shelves clearing quickly!

Friday
Had the flu (# 2 in the line of 5) - spent the day resting
We started with an inch and added almost 2 feet more by the end!