If you'd like to take a peek into how other bloggers see their daily lives (for inspiration, you know!) join
Sara
and the rest of the Project 365 gang for our weekly update. Here's how the week went in our neck of the woods.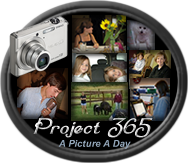 Our family had been dealing with some nasty stomach bug so a dear neighbor spent an entire afternoon making us one of her famous Mediterranean dishes so we didn't have to cook. It was divinely delicious!

Monday
Fort Building!


Tuesday
My son is taking a novel writing class.
First book finally ready for editing...30,000 words here we come.
Wednesday
We dug out from the first storm that delivered 2 feet of snow to our doorstep. The second storm started to arrive overnight Tuesday through Wednesday...one more foot to top it off in the end!
Thursday
The girls were watching tv from the sled that somehow ended up in the living room. During the commercials it looked as if they were practicing for a future bobsled team....too funny to miss.

Friday


H-Mama took a great pic of party supplies in a bag last week and I told her I was borrowing her idea this week. We've had a pirate party on the calendar for weeks; it's been snowed out twice!

Saturday

We finally celebrated Katie's 8th birthday with friends after being snowed out two weekends in a row. The first week we ate the store bought cake, the second week we knew the storm was coming and didn't bake, and this week we got all "Ace of Cake-like" and made our own. She was very proud of our design!