Share your week with us!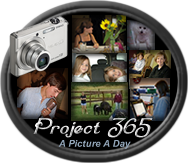 Day 23 (Saturday) - We went out to eat as a family to Macaroni Grill.
Day 24 - I won this candy at a baby shower. We were supposed to shout out what candy bar came to mind when a phrase/word was said re: pregnancy/motherhood. The word given was CONTRACTION, so of course, the candy was NOW and LATER! I haven't seen one of these since the 80's.
Day 25 - First workout of the new year and it only took me 25 days to get to it! Go Leslie Sansone! (You do see that it's still dark outside, right?!)
Day 25 - (pic # 2) My girls winning awards & earning badges at the American Heritage Girls Awards Ceremony. (Left - Katie, Right - Tara)
Day 26 - My lunch was gorgeous and it came from our church's cafeteria. Yes, we have a cafeteria. The special on Tuesday: Asian Chicken Salad with roll. It was as good as it looks. Yum!
Day 27 - Tara came and asked me to help her put on these Barbie shoes. I said, "These are pretty shoes!" She answered, "Yes they are! I wish they were mine cause then I'd be higher."
Day 28 - Tara had an eventful week. Wednesday night she ate/touched something that incurred a severe allergic reaction. Her left eye was completely swollen shut within 5 minutes of touching the unknown allergen. She has to undergo allergy testing next week. My boys suggested I take a picture of the eye, but I didn't. Instead her first top tooth came out on Thursday and we thought we'd celebrate with a photo memory!
Day 29 - Field trip downtown. We went to see the Terra Cotta Warriors, but couldn't take pictures. Then we went to the Library of Congress to get our library cards! Fun day! The LOC is such a breath-taking building.