I can't believe the first week of March has already passed!
Take a few moments and join
Sarah
and her friends as they take a look back at their week through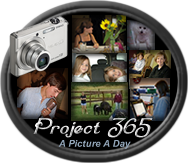 Sunday
Our children's dept at church hosts a once-a-month worship service for families. This was the first time we've gone and we had a great time! We won't miss Kid Stuff next time!

Monday
I sewed and sewed and sewed (by hand) badges on the girl's American Heritage Girls uniforms. Once I was finished Katie pointed out that I had the home repair badge on upside down...on both vests. You can tell I'm handy!
Tuesday
The Father/Daughter dance is still on their minds and they have been demonstrating the many types of dances they did last week. The "sprinkler" is one of their favorite.
Wednesday
Hello, my name is Angie. I have a problem.
It's been a problem for a while as you can see here.
(Sigh.)
We have co-op on Thursday mornings followed by lunch in the gym with our friends.
After co-op today we had friends over to play!

Friday
Mark reminded me it was our engagement anniversary and gave me two little chocolates. Yum!
Saturday
There's just something about the profile of your child's face!
They grow up too quickly.