Last week was jam-packed with Ashley home for spring break,
birthday
celebrations, a two-day conference, etc. But instead of just talking about it, here's the pictures.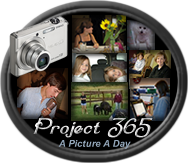 Monday
(missed Sunday)
This is humility, folks! Me in my ratty robe on the world-wide web. I've reached a new low, but it's worth it. My dream-come-true sewing machine has just been
unboxed
. I'm literally hugging it! If you asked me which birthday present was the best-ever, it would be this one! (and it's not just because I have a bad memory.) Here's hoping this baby initiates a fair share of future blog posts.
Tuesday
Happy Birthday to Me at 43! Beyond-yummy cake, Mom. Thanks!
Wednesday
Ashley and I spent some quality time getting pedicures - our first for spring. It's so weird how similar our feet are...those long toes and funky little pinkies. I love having my girl home!
Thursday
Did I mention I love having my girl home? She comes with us to Co Op on Thursdays and hangs out while I teach the choirs and band. Here she is with all the essentials - candy, water, a good book to read, and a phone/book weight to stay in constant touch with the boyfriend.
Nothing
better than just having her around.
Rhett and I spent a day and a half (Friday 9:30am -9pm & Saturday 9am-12:30pm) at a Leadership Conference. We were motivated, convicted, encouraged, energized and brain-drained by the end. I didn't think to dig out the camera to capture the conference, but here's Friday night's meal at Chili's. It was so nice to get a dinner break and get away for some great conversation with my son.
Saturday
After the Leadership Conference was over on Saturday I rushed home and picked up the girls. We then headed for a Mother/Daughter Tea hosted by our
AHG
Troop and our
homeschool
Co Op. It was a delightfully feminine time and I got to enjoy my two little girls after being away for a couple of days.
An hour after the tea party, I then had to rush to my third appointment of the day. It was another social event at my Mom's house. I was already exhausted, but thought it was right for me to attend. When I walked into my Mom's living room, there on her couch sat a dear friend who I had not seen in two years! What a surprise! It just seemed like the perfect ending to a very full and blessed week! I left feeling full-up, if you know what I mean.
I had sweet
Jewel
check up on me since I hadn't posted in a week's time, but it was just unusually busy and I purposefully spent time with my family instead of distracted by all the other things that can take me away. I thought about you, fellow-
bloggers,
and hope that your spring is giving you opportunity to enjoy your family, as well. Looking forward to catching up on what I've missed.
Thanks,
Sara
, for hosting Project 365!