Get to know others through
Sara's...make music from your heart.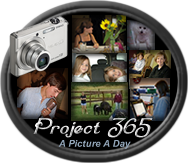 As we were leaving church we saw a girl wearing these chucks. My girls LOVED them! We took a picture to send to Ashley, 'cause she would love 'em too. What's so funny is that when we asked to take the photo, the teenager turned to her dad and said, "See I told you these were cool!" (They zip up in the back.)
Monday
Tara gave her own money to fill a baby bottle for the crisis pregnancy center!
Tuesday
The girls are learning about Space Exploration in
American Heritage Girls.
Here is Katie's solar system. I'm surprised the candy made it to the paper.
Wednesday
A never ending chore...great helpers.
Thursday
They have finally arrived!

Friday


Mark, Katie & Tara attend the AHG Father/Daughter Dance. The girls dressed up as princesses and Daddy got them wrist corsages. The girls secretly went to the florist's to buy him a boutonniere. They got their hair cut/styled and nails done...it was a memorable night.

Saturday


After playing at a friend's house a couple weeks ago, the kids were anxious to get their own Nerf guns. There are wars going on all the time. How long will it take for the novelty to wear off? They have to wear their sunglasses to protect their eyes, but now they think that adds to the "cool" factor.