I'm a day late. Tara got a stomach bug and I've been "Nurse-Mommy" most of the weekend. That included lots of time sitting with her so I didn't get much done - not that I minded much. Cuddle time with my baby girl is always welcome. We're praying she's on the mend.
I'm joining Sara's Project for the 13th time!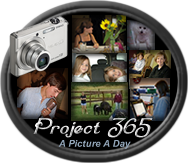 Here's what happened this week:
Saturday

We left Saturday for a three day weekend to visit Ashley at college. We included a stop for ice cream and these two crazies had way too much fun at this pit stop! Mark and I enjoyed the treat too.
Sunday
The girls talked TJ into letting them ride in the back of his jeep on the way home from church. It was fun following them down the freeway watching their hair blow in the wind. They loved it!
Monday
The Shirley Temple at
O'Charley's
- sprite with cotton candy on top...fun drink!
Thinking about teaching this next year in co-op. Working on the outline.
Wednesday
We went to the local college to see
Seussical
. It was a school (co-op) field trip put on by a theatre class, I presume. It was a stripped down set, but the 12 performers were all great. Wish I could have shown you a pic of the performance, but you know, NO PHOTOGRAPHY. :)
Thursday
Forgot to get a picture for the day so I decided to fill in with a picture of the Gone With The Wind cookbook that I bought at a coffee shop on Monday. Some of the desserts look delicious!
Friday
Haircut time: The before & after. Went a little shorter for summer.
Saturday
Is the pollen covering your vehicles? Mark got out the car washing tools and put the girls/himself to work. It was a little chilly for swimsuits, but they had a fun time in the sun.