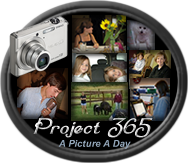 Week 2 with
Sara
for Project 365.
Sunday, Jan 2
Mark decided to wear sandals to church.
It was warm, but not that warm!

Monday
Christmas break is OVER...back to practicing the piano!

Tuesday
Some paint swatches for a new project. What could it be?

Wednesday
Katie turns 9! Gotta love a girl who wants fruit tart over cake!

Thursday


1st - 3rd grade recorder band on Thursday afternoons. Missed my kids.

Friday


Katie has her first bowling party/sleepover with friends for her birthday.

Saturday
This is what I woke up to on Saturday morning. Yum!


The new Playdough Cake Decorating Kit that was given to Katie for her birthday has been a "scrumptious" success!

Sunday


Being silly before bed. Please, don't fall down the stairs!