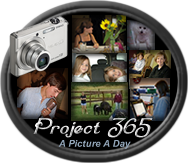 Join
Sara
for Project 365 where you'll make new friends and capture 2011 in pictures!
Sunday, January 9

th
Rough draft of my volunteer's schedules at church for the first quarter.
Update: I schedule 31 volunteers at 13 different greeter/check-in stations for our children's department on Sunday PM. So the words you can kind of make out are just abbreviations of the stations.
Monday
There to greet me every Monday morning. Sigh.
Tuesday
A lost tooth. Yay!
Wednesday
Don't ya'll get a hankerin' for an egg sandwich sometimes? It just looked like a work of art to me.
Thursday
I spoke to a support group of homeschool moms on organization during the day and began a new Bible study with my neighbor that evening where I used my Grandma's china for the first time.
Friday
These sayings in the Extra Gum crack my girls up. They especially like the message in the green box.
Saturday
Zoobles have now entered our domain. The girls received these as favors from the birthday party they attended Saturday afternoon.
That's our week! See you next time.