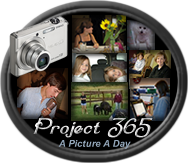 Here we go again!
Sara hosts Project 365
, where we take a picture each day of the year. I participated in 2010, but didn't keep up with my posts once August began. I hope to make it to the end of the year this time!
I believe 2010 was the most memorable year for me because of this project. During the quiet of the holidays I looked back at the Project 365 posts and it was so much fun remembering the small things...the new candy bar, the sunset over the library, dinner on the porch in
March
.
Usually, everyone remembers the trips they've taken, the holidays/celebrations and maybe a few other hard-to-forget moments, but with Project 365, you really focus on enjoying the moment and capturing it each day with a photo. If you haven't given it a try before and it sounds like fun, join us next weekend. You can start today; it won't be a problem.
Saturday, Jan 1
Fingers and toes are painted for church on Sunday.
I am determined to spend more time with my little girls this year. I get so busy with "things" that I neglect to enjoy my family. They heard too many times last year, "Not right now, I have work to do." Having a daughter who will be getting married this summer is just a reminder that time goes quickly. I want to enjoy every moment I can!