Back to P365, where I take a picture a day to represent my week!
If you'd like to participate, join us over at
Sara's.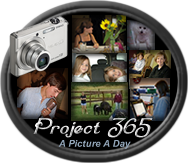 Had some returns at Sam's Club and came home with Pretzel Crisps and other goodies. (We'd never had them until earlier this month. Now...we're addicted!)
Tuesday
Pizza Burgers! I had a meeting Tuesday night and got this ready for my family to assemble for dinner. Yum! You can get
the recipe here.
Wednesday
Broiled Angel Food Cake.
Oh, my!
Thursday
Someone's learning Spanish!

Went to a fellow homeschooler's graduation and saw old friends!
Saturday
Fun day at the water park!
Put a few items on Craig's List that the puppy no longer needs! Yay!